PVC Garden Edging
PVC LANDSCAPE / GARDEN EDGING
DESIGN: TAPE ONLY
MOQ: 100 ROLLERS
Package: 4 ROLLS/CARTON BOX
Measurement: See Blow description
Thickness: 3mm / 4.5mm / 5mm
Length 6.0m - 12.0m
Colors: 2 COLORS AVAILABLE

Texture: 2 TEXTURES AVAILABLE

Temperature: -30℃ TO 70℃
Life time: 20 YEARS TO 30 YEARS
Product Details
East Building Basics Landscape / garden Edging Coil with Stakes is easily create beautiful, custom outdoor design with the basics landscape / garden edging coil with stakes. This durable, faux woodgrain plastic border encapsulates and separates garden beds and other landscaped areas on your property. Whether you're mulching or filling in an area with rocks or plantable soil, the edging allows you to prepare custom beds and boundaries with clean margins. Build the garden of your dreams and increase your home's curb appeal with this simple, distinctive addition.
Create Beautiful Landscaping with Ease. Block weeds and other unwanted debris from invading manicured areas and keep plant growth within established boundaries with the basics edging coil. An addition that significantly cuts down on weeding and detail work in the long run, this flexible plastic border keeps your landscaping looking crisp and well-maintained. Use for creating colorful custom flower beds, rock or gravel pathways, contained grassy areas, tree or bush alcoves and much more.

Instead of quarried natural stone or cement based manufactured stone veneer, durable and flexible easy to manipulate for custom design jobs, you'll be able to create attractive, unique curvature as well as strong, structured boxes. Made of durable recycled plastic with a textured woodgrain surface, the basics landscape / garden edging coil comes complete with a set of matching ground stakes to ensure it stays put throughout the seasons
Features
● Recycled plastic landscape edging coil for gardens, lawns, and more.
● Faux woodgrain texture and color creates a natural look.
● Build clean, crisp borders for grass, raised garden beds, shrubbery, pathways, and more.
● Flexible enough to create custom curves as well as structured boxes.
● Includes matching stakes to ensure edging stays in place through the seasons.
Specification
| | | | | |
| --- | --- | --- | --- | --- |
| Width | Thickness | Length | N.W | Diameter size |
| 76mm | 3mm | 12.19m | 2.15kg/roll | 265mm |
| 127mm | 3mm | 12.19m | 3.48kg/roll | 265mm |
| 135mm | 4.5mm | 6.096m | 3.70kg/roll | 330mm |
| | | | | |
| --- | --- | --- | --- | --- |
| Plastic Nail | 10mm | 240mm | 40kg/pc | 10pcs/roll |
| Steel Nail | - | - | - | 5 pcs/roll |
Colors & Textures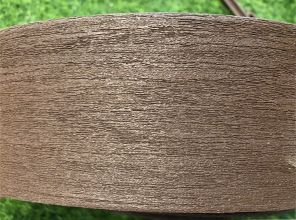 Installation