Product Details
East Building PVC floor is essentially a derivative of PVC panels, it is using of macromolecule calcium to improve the PVC product quality with lowest cost. The macromolecule calcium property gives PVC plastic products new strength, making a good performance characteristics, reliable quality, long life using and totally safety using.

At the same time, PVC floor still retains part of the characteristics of PVC, the production doesn't need adhesive in the process of foil lamination, the hot pressing is insteading of adhesive, which totally reduce of formaldehyde and other harmful substances.

Except the mute pad (EVA/IXPE), all other materials including the base material, color foils, wear-resistant layer are made of PVC, which is 100% recycling, so as to reduce construction waste pollution and achieve recycling. Wood floors and tile floors do not have such advantages.

Up to 30 years life, 100% waterproof, Click joint, Fire resistant, Moistureproof, Scratch resistant, Anti-slip, Mute solution, Quality guarrantee.
Features:
● Hygienic
● Water proof
● Good flexibility
● Affordable cost
● Durable quality
● Anti wearing
● Aesthetically-pleasing Wood Grain
● Hundreds of designs available
● Low-maintenance
● Resistant to insects, rotting and warping
● No volatile organic compounds.
● Simplicity of installation
● UK Class 1 fire rating
● Installed life expectancy of at least 15 years
● ECO friendly recyclable - can be crushed and used in cement manufacture
● Wide application: Public house, Priate house, Garage, Mobile house. Tiny house.
Accessories / Trims / Profiles / Corners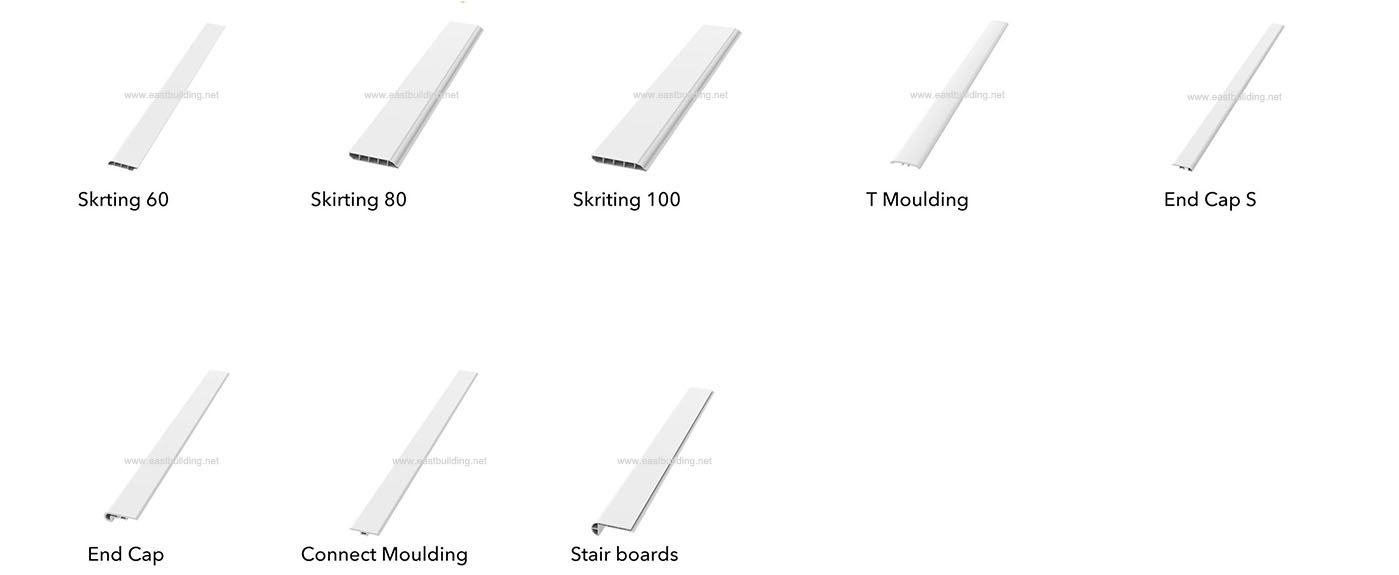 FAQ
PVC flooring is the exact same thing as vinyl flooring. It's just a different name for it!
Why the different phrasing? Well, PVC is the third-most produced plastic polymer in the world. It's used in lots of different applications aside from flooring-like pipes, siding, insulation, and even health supplies. And since many people are familiar with the material, PVC flooring has become a common synonym for vinyl flooring.
And everyone loves vinyl flooring. It's one of the most popular hardwood floor alternatives out there!

What's the Difference Between SPC Flooring, PVC Flooring and Vinyl Flooring?
Again, this is a big question with a simple answer - Nothing!

Like we said, SPC flooring and PVC flooring are just another name for vinyl flooring. The three terms are totally interchangeable!
We know: it causes a lot of confusion for people shopping for vinyl plank flooring, or trying to learn about the differences between spc, pvc, vinyl vs. linoleum vs. laminate.
But from now on, whenever you see SPC flooring and PVC flooring, you'll know-it's just vinyl flooring.

Different Types of Vinyl Flooring
Now that we have that sorted out, it's important to explain that there are three main types of vinyl flooring that fall within the vinyl.

1. Vinyl Plank Floor
Vinyl plank floor is the most popular faux wood flooring option on the market. It's waterproof, you can use it to create all sorts of classic wood floor designs, and the cost to install vinyl plank flooring is way cheaper than the cost to buy and install hardwood.

Vinyl plank flooring can come with a rigid or a flexible core, depending on the product. If you opt for a rigid-core product, you have a few additional options.

2. Vinyl Tile
Vinyl tile has the exact same properties as vinyl plank. It can come as a rigid or a flexible product, it's waterproof, etc.

So what's the difference between vinyl tile and vinyl plank?
Vinyl planks are made to look like wood. Vinyl tiles are made to look like-you guessed it-different types of floor tiles! We're talking slate, granite, marble, you name it.

And that means they usually come in square pieces instead of rectangular planks. Again: all of these products-LVP, LVT, WPC, SPC, EVP-are just different types of PVC flooring

Additionally: all of these types can be installed as click-together flooring, loose-lay flooring, or glue-down flooring. It just depends on the product.

3. Vinyl Sheet
The third type of vinyl flooring is vinyl sheet. This is the old-fashioned, patterned vinyl flooring you probably remember from the kitchens and bathrooms of your childhood.
It comes in large size sheets that are cut to fit your space, and then glued down. It isn't among the easiest types of flooring to install, but it's inexpensive and super durable. And of course, it's a type of PVC flooring.

The Pros and Cons of PVC Flooring
PVC flooring, like any other type of flooring, has both advantages and disadvantages. It's important to get the full picture before moving forward with any decisions. Let's review some of the main ones for vinyl.

Pro: PVC Flooring is Easy to Install
PVC flooring is relatively easy to install, which can be a huge perk. Both vinyl plank and vinyl tile can be installed as a floating floor. If you're wondering what is a floating floor? It's an installation style that uses snap-together pieces-so the surface doesn't have to be attached to a subfloor with glue or nails.

That said, if you aren't keen on the disadvantages of floating floors, you can always buy glue-down or loose-lay PVC flooring products instead.

Con: PVC Flooring Can Be Hard to Remove
One of the downsides of both of these installation styles, though, is that they make PVC flooring rather difficult to remove.

Pulling up glued-down planks isn't easy to do without damaging them. And with snap-together floating floors, you have to take the entire floor apart if you want to repair a single damaged plank or tile. It can be a hassle!

Pro: It's an Affordable Faux-Wood Flooring Option
There are some incredible fake wood flooring options on the market-raw wood flooring, hemp flooring-even the best cork flooring ranks pretty highly on the list.

But among these choices, vinyl is one of the most affordable options on the table-so it makes it a great place to start if you're looking for budget-friendly choices.

Pro: PVC Floors are Waterproof
If you've been looking at flooring options, you'll know the variety is exciting-so what sets the best vinyl plank flooring brands apart?

The biggest differentiator between vinyl plank vs. laminate (the two most common faux-wood options) is the fact that vinyl is waterproof.

Most of the other fake wood flooring choices available are not waterproof. For example, one of the disadvantages of cork flooring is that it can absorb water. This is a huge perk when it comes to choosing vinyl.

Also, remember that waterproof and water-resistant are different. You can find some water-resistant wood flooring options, but none of them will be completely waterproof. Teak flooring, for example, is water-resistant thanks to its natural resins and oils. But it definitely isn't waterproof.

Con: Vinyl Is Not the Most Eco-Friendly Option
If you're in the market for eco-friendly flooring, you won't find vinyl at the top of the sustainability rankings. Because PVC is plastic, it requires a lot of resources to produce, and it's less recyclable than other options.

Pro: PVC Flooring is a Great Choice for Durability
If you're looking for durability, PVC flooring is a great choice. Vinyl planks and vinyl tiles are some of the most scratch-resistant flooring options around.

So whether you have kids running through your home, dogs wrestling on your floors, or just high traffic areas, vinyl flooring is definitely worth considering. Even the most durable wood flooring options don't hold a candle to the vinyl in terms of durability.

Con: There can be Quality Issues with Some Vinyl Floors
Pro tip: one of the easiest ways to find a higher quality PVC floor is to look at wear layer thickness. A minimum of 0.3mm thick is recommended for residential buildings, and 0.5mm thick is recommended for public areas. Another way to find a high-quality product is by asking your local flooring store.

Is PVC Flooring a Healthy Option?
We're not going to sugar coat it: vinyl flooring is made of plastics, which means that chemicals are heavily involved in the manufacturing process.

When those chemicals off-gas, they're known as VOCs-volatile organic compounds. When VOCs off-gas in your home, they can affect your indoor air quality-potentially harming your family's health.

The good news is that there are low-VOC vinyl flooring options available if you know where to look!

There are Low-VOC Alternatives
VOCs are in many products, so it's hard to avoid them completely. But if you want the safest and healthiest options, for a low-VOC flooring option.

There are non-toxic laminate flooring choices, and even low-VOC carpet options on the market. Your best bet is to stick to natural materials instead of man-made. Shop for different hardwood species or natural stone for the least amount of chemicals.

How Long Does PVC Flooring Last?
PVC flooring generally has a lifespan of 12 to 15 years. It can last much longer if it's cleaned and well-maintained, though. But if you go with lower-quality flooring, it may not have that long of a lifespan.

Again: vinyl isn't the most environmentally-friendly flooring in the world. The best vinyl plank flooring brands offer tons of benefits, but they'll only last as long as the warranty guarantees-so that's definitely something to consider when making your decision.

That said, some companies offer lifetime warranties, so it all depends on the product.

PVC Flooring vs. Laminate Flooring
Vinyl and laminate flooring have a lot in common-affordability, ease of installation, and durability.

Because of this, many of the same arguments made in favor of laminate in the tile vs. laminate and carpet vs. laminate debates also apply to vinyl flooring. However, there are also significant differences between the two.

Vinyl is entirely synthetic, whereas laminate does contain some natural materials. Vinyl also has some benefits that laminate doesn't-it's heat-resistant and waterproof. Laminate also contains high VOCs. Those factors may be extremely important for you depending on where in your home you're installing your new floors.

If you've been shopping for laminate, it would be a great idea to include PVC flooring in your search as well. Along with wood-look tile, it's one of the best faux wood options for high-traffic areas. Not to mention, you can find PVC options that resemble everything from wide-plank wood flooring to thin-strip parquet.
Is PVC Flooring Waterproof?
It sure is! All the best types of vinyl flooring are 100% waterproof. This means that PVC flooring is a great choice for bathrooms, laundry rooms, basements, kitchens, or even mudroom flooring-any damp spaces or places with a chance of wet feet or spills.
This is the factor that sets it apart from many other surfaces, including nearly all wood flooring types. Even the best engineered wood flooring can't stand up to water like PVC flooring can. In fact, water issues are some of the only real engineered wood disadvantages out there.
Installing PVC Flooring
Vinyl is known as an easy-to-install type of flooring. Many DIYers are able to put this in themselves without issues. Even if you have to hire a professional, it's a relatively affordable installation compared to the cost to replace carpet with hardwood, for instance.
Professional Installation vs. DIY.
As with any type of flooring, there are tons of professionals that can install your floor for you. So if you find yourself questioning "what is best flooring for DIY" or Googling how to install peel-and-stick flooring… well, we'd recommend only vinyl planks.
How to Care for PVC Flooring
Maintaining any type of flooring is important, and while PVC is much less maintenance-heavy than some other floors (including nearly all types of wood flooring), there are still some best practices.
It's best to clean with water and a mop weekly. If there are any stubborn stains, using vinegar or gentle cleaners. Make sure to use furniture pads, especially with anything that moves around to protect that top layer of the vinyl. And when you vacuum, do not use a beater bar. By following these tips, you can make your PVC flooring last!
PVC Flooring is a Great Choice-So Here's What to Do Next!
Make a plan to get in touch with vinyl flooring manufacturer to talk to an expert. They can answer your questions, and help you decide if PVC flooring is the right choice for you.
You can ask about cool questions like super easy DIY install, or have them sent you video of installation floors. Either way, it's always good to have an expert to chat with. And as always, we're happy to answer any other questions you have!