Product Details
East Building PVC Ceiling Cladding Panel is an elegant system of internal decorative paneling for both ceilings and walls. All ranges feature tongue and groove joints that are waterproof and do not require grouting.
One major benefit is cellular pvc ceiling cladding cost. Ceiling Wall cladding cost includes materials, labor and finish during installation, and maintenance requirements thereafter. PVC ceiling cladding is typically designed with ease of installation in mind, it is wide & light in weight with consequent savings in labor costs. it does not need any finishing like painting. These factors make installation of PVC cladding's the lowest cost option.
Our PVC Ceiling Cladding come in marble effect, wood effect, tile effect and other decorative styles, which are widely suitable for any places and areas.
PVC ceiling cladding does not accumulate difficult-to-remove dirt. Any superficial dust can be washed off. It does not result in significant condensation and does not shed particles to any significant degree. Any surface water can be easily wiped off or dried out.
PVC is versatile and can be produced to incorporate different properties needed for different requirements. Colors, heat resistance, resistance to chemicals, fire resistance, insulation properties etc can be controlled while making PVC sheets. This makes it possible to select the right kind of sheets for different environments.
PVC is a workable material that can be bent and cut to meet needs during installation. The sheets are often designed to enhance such work-ability. This feature makes it easier to cover walls completely and neatly using PVC
With a range of colors, patterns and textures, our PVC Ceiling Cladding can provide the kind of look your prefer. They can be selected to suit special themes and produce different kinds of decorative effects.
PVC ceiling cladding systems typically come with profiles and trims that make them easy to install. Panels might be designed for flush interlocking, and to hide fasteners such as nails used to fix them.
PVC ceiling cladding is great on many counts. They are hygienic and can create pleasing interiors. Their properties can be tailored to meet special needs like 100% waterproof, strong & durable, resistance to flaming, resistance to chemicals. PVC is a workable material that can be bent or cut to suit local needs.
It is easy to install PVC ceiling cladding systems. They are typically designed to fit flush, with interlocking panels and other devices, and come with finishing accessories like profiles and trims.

PVC ceilings and cladding walls is a preferred material for hotels, restaurants, hospitals, shops, commercial properties, carports, farm plant such public establishments; and offices, living rooms, bathrooms, kitchens, garages such private areas where hygiene is important. Panels maker typically take care to conform to the hygiene standards prescribed in relevant regulations.
Features:

● Light and easy to Install
● High Strength & Durable
● Natual Texture
● Luxuriant Color & Natual Designs
● Good Insulation
● Waterproof System
● Class A fire rating
● Rotproof
● Hygienic & Healthy
● Ranges of matching trims, fixings and accessories
● Easy to clean
● Impact resistance
● Excellent alternative to ceramic tile, timber.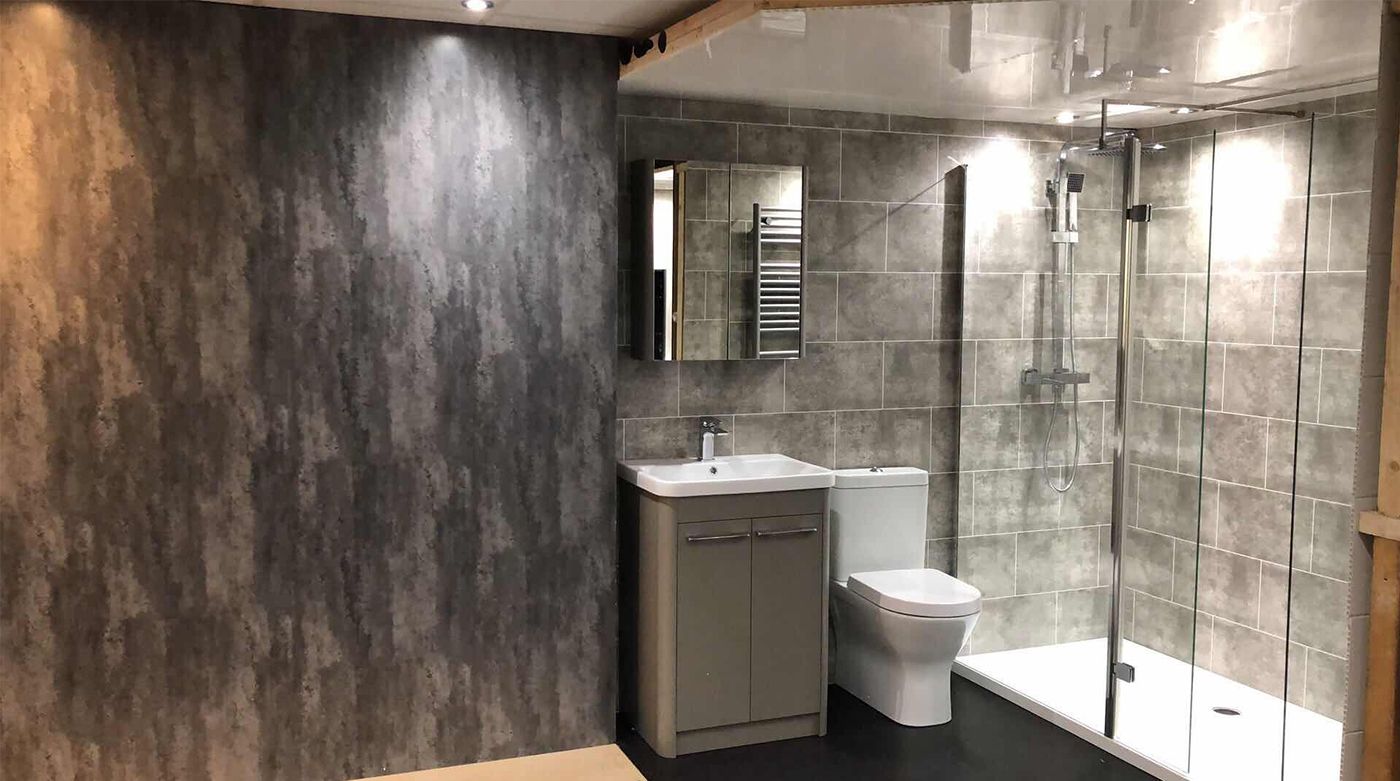 FAQ
What is PVC?
Commonly abbreviated PVC is a thermoplastic polymer.
It's one of the most popular plastics in use in the world today. It has been a material of choice for over 60 years because of its technical versatility, performance and cost effectiveness.

What is East Building PVC Ceiling Cladding Panel?
PVC Panel / cladding, light with a hollow core, smooth surface and a tongue and grooved edge (T&G) for easy interlocking assembly.

PVC panels are made from precision extruded PVC and decorated with unique designs ranging from marble, onyx to wood grain patterns, wall paper patterns, 3D effect and tile effect. Other colors are also available.
The result is a product with durability and low maintenance. It has a safer fire rating than wood or other wood fiber products.
These panels are perfect for installation vertically, horizontally or diagonally. Tongue and groove profiles are designed to allow easy installation, with recessed fastening by either stapling or nailing to conceal the fastener. Plastic wall panels can also be glued.

Are East Building PVC Ceiling Cladding Panel safe to use?
Yes, our panels have been tested to :CE certificate, SGS certificate, Intertek certificate. GMC certificate. CCC certificate. ISO9001 certificate, ISO14001, MSDS certificate, UK fire class 1 certificate. France NON-FEU CM-13-B-033 certificate (as required). RoHs certificate (as required). Lead Free test report (as required), National Certificate of inspection (extra pay)
What size does the East Building PVC Ceiling Cladding Panel come in?
Our standard width and most popular are 200mm, 250mm 300mm, 400mm, 600mm. Lengths are 2400mm to 2950mm on line and up to 5950mm. (customized or container size)
How many colors or designs are there?
PVC panels are made from precision extruded PVC and decorated with unique designs ranging from marble, onyx to wood grain patterns, wall paper patterns, 3D effect and tile effect. Other colors are also available.
There have 3 different technologies for making these patterns: Print, hot stamping/foil and lamination. Each technology has its unique performance.
Print – Ink Paint on top of panel.
Hot stamping – 0.02mm thickness paper stick on top of panel.
Lamination. – 0.1mm thickness textured paper stick on top of panels.
What are the benefits of using East Building PVC Ceiling Cladding Panel?
1. Easy installation, quick & about 1/3 of the time of most other applications and budget friendly.
2. Fit easily up on existing surfaces including bricks, tiles, ceramics, woods, concrete, plastics and aluminum.
3. Perfect for the DIY enthusiasts as they are easy to install, lightweight, and easy to handle, requiring no special tools.
4. Hygienic, resistant to water, moisture, moth. No painting or ongoing maintenance.
5. Innovative designs.
Are East Building PVC Ceiling Cladding Panels easy to install?
Simply YES, the average DIY person will breeze through the installation process with a minimal quantity of basic tools required. Tape measure, Fine toothed saw (manual or electric) and skeleton glue gun will be enough to do most standard installs.
What surfaced can the PVC panels be applied to?
The PVC panels can be applied to most surfaces including paint effect, tileeffect, concrete effect, brick effect, wood and other effects. For rough and uneven walls firstly straighten the wall by building a timber frame and then fit the panels as per instructions outlined.
Wide Applications

• Showers and toilets
• Water containers
• Living rooms
• Shops
• Offices
• Commercial properties,
• Food Industry
• Food manufacturing structures
• Dining areas
• Sorting halls
• Storage/refrigeration chambers
• Plating of food transport trucks
• Kitchens and food preparation
• Public areas
• Meal distribution centers
• Garages carports
• Vehicles washing are
• Agricultural
• Livestock farms
• Dairies
• Egg sorting halls
• Storage rooms
• Finished products
• Air ducts
• Production and sorting systems
How tough are the panels?
Everyday wear and tear will not affect our panels, however they can be damaged by sharp objects, or the pattern can be removed by rough objects.
What if I choose to change the design of my room in a few years time?
Unlike tiles, the decorative panels are very easy to remove and replace with an alternate design or color, making redecorating a much easier project.

What type of adhesive should I use with PVC panels?
The correct panel Adhesive and Silicone Sealant are available from us. See more
What can you do with edges and corners?
There are specific trims for each job: Corners -Internal & external trims, Panel ends- End trims, Ceilings – Cornices, Panel joins – Connector trims.
What temperature range I can use plastic panels in?
Our decorative panels can withstand temperatures up to 140°F (60°C).
Can I install any lights into my PVC ceiling?
Yes, apply the light fitting or light globe dose not exceed 60 Degrees Centigrade. (Please check technical data of your light fitting before installation)
If you still have any unanswered questions, then please do contact us
Tips.
A poor installation can lead to unattractive warping and buckling of your siding.
If you still have any unanswered questions, then please do contact us
Ceiling Cladding tool:

Ceiling Cladding Installation Instruction please Contact us